Custom Exotic Belts & Leather Goods
Assorted Exotics
Our collection includes creations from the following species: Alligator, African Cape Buffalo, Asian Water Buffalo, Bison (also called American Buffalo), Caiman, Cobra, Crocodile, Eel, Elephant, EMU, Exotic African Fish, Giraffe (limited supply), Hippo, Kangaroo, Karung, Lizard, Ostrich, Pirarucu, Python, Rattlesnake, Salmon, Sea Snake, Shark, Stingray, Tilapia, Whip Snake, Wildebeest, and Wolffish.
We work hard to ensure we have a diverse supply of exotics for our customers.
Essentials – Snake Skins of all Types
In fashion, beauty is in the eye of the beholder, but quality should never be compromised. We are committed to providing you styles that are crafted with quality and will last through the wear and tear of your daily life. If you are looking for designer exotic leatherworks and especially belts, you have found the premiere resource.
In the snake category, we have dozens of colors and you can choose from cobra, karung, python, rattlesnake, sea snake, and whip snake.
Alligator & Crocodile
Master craftsman Endres and his shop are experts at handmade signature styles. American alligator, crocodile and exotic caiman are in constant demand for belts, purses and shoes. Our alligator is sourced from the best in Louisiana. When you want to be a part of excellence and have the best quality belts, EEL will custom craft to your specifications.
Ostrich & EMU
Our collection is one of a kind. Ostrich is in demand regardless of season so we do our best to keep all of our colors in stock. Most of our customers are repeat customers because we can customize any piece we create.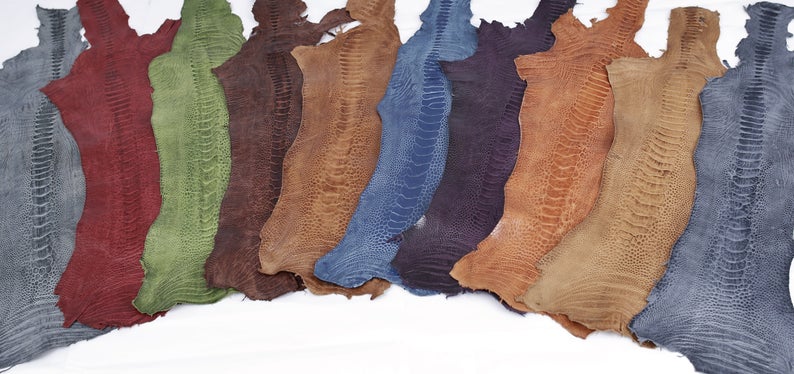 Contact us at [email protected] We also wholesale to select retail accounts.